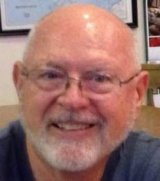 T
his web site was designed and is maintained by Keith Brandt, in memory and honor of ancestors and the pioneers of the Plumer Settlement. First of all, thanks to the Clarinda Publishing Company for allowing me to use the book
"Mills County Iowa Cemeteries"
, compiled by the Hastings Federated Woman's Club, for much of the source material for the burial list on the Plumer Cemetery page. And also to Eloise Jepsen and Lowell Wiseman, who graciously granted permission to use material from their book,
"The Familie Green of Slesvig"
, in preparing this web site. And also to Mary Plumer, and to many others for contributing photos, helping with dates, names, and verifying the information I've presented here. And finally, a special thank you to the Salem Lutheran Association Board for their continuing assistance and support in maintaining this site.
Keith is a 4th great-grandson of Johann Heinrich Plumer and Maria Plumer. One of Johann and Maria's granddaughters was Julia Anna Elizabeth Bauer (about 1843-1926). Julia's father, Christian Bauer, and her younger brother John, died of cholera during an epidemic in St. Louis in the 1840's. Her mother, Margaretha Caroline (Plumer) Bauer, remarried to a Mr. William Appenheimer, but she also died of cholera in about 1850. Following Margaretha Caroline's death, Johann went to St. Louis on horseback and brought Julia back to Moniteau County, Missouri, and then on to Plumer Settlement. Julia lived with her grandparents in their log cabin, and with other Plumer's, until 1860, when she married Keith's great-great grandfather, Carl "Charles" Jürgen Green (1834-1925).
Another set of Keith's great-great grandparents, Jürgen Brandt (1817-1906) and Anna (Möller) Brandt (1822-1903) came to Plumer Settlement from Germany in 1868.
"Click" or "tap" on a thumbnail below to see photos of Charles Green and Julia Bauer Green, or Jürgen Brandt and Anna Möller Brandt, both circa 1880's:

Keith is married to Susanna "Susie" Beck. Susie's great-great grandparents were Asmus Beck (1798-1875) and Elsabe Lucia (Kiekbusch) Beck (1808-1872), who came from Germany in 1854 and were also early pioneers in the Plumer Settlement.
Johann Heinrich Plumer, Carl "Charles" Jürgen Green, Jürgen Brandt, and Asmus Beck were among the original signers of the Salem Lutheran Church Constitution in about 1873. A transcription of the German-language constitution, its English translation, and an image of their signatures, can be viewed by clicking here.
Keith and Susie Brandt are enjoying retirement in Seymour, Tennessee, near the Great Smoky Mountains.