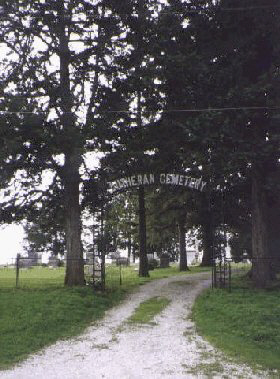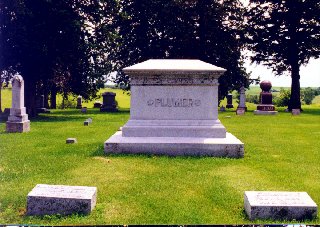 B
urials in the Plumer Settlement were first made in
Saar's Field.
Fearing that the graves in Saar's Field would one day be lost, the Plumer Settlement Cemetery was established across the road from the
Salem German Evangelical Lutheran Church
during the ministry of Pastor Samuel Estel (August 1872 - July 1874). The first grave in the new cemetery was that of Johann Plumer's wife, Maria Plumer, who was born in 1796 and died on December 10, 1859. She had originally been buried in Saar's Field, but was later moved to the new cemetery.
The cemetery is well-kept. Many of the stones have German inscriptions. However, some limestone markers are difficult or impossible to read and others are broken or misplaced. Furthermore, some of the lots have no stones or markers.
Descendents of the early pioneers gather at the church every year on Memorial Day for a special memorial service, and then cross the road for a brief ceremony at the cemetery. Everyone is invited to attend this memorial service — friends and visitors are always welcome.
The list of burials shown below was compiled from various sources, including the book "Mills County Iowa Cemeteries", which covers the years through about 1980. This valuable book, published by the Clarinda Publishing Company, was the end result of a project begun in 1975 by the Hastings Federated Womens Club to transcribe all of the gravestones in Mills County, Iowa. I would like to acknowledge their efforts and thank them for publishing this valuable information. Every year or so I try to "walk" the cemetery to find anything new since my previous visit, and then make any changes to this listing.
Please provide comments, feedback, or corrections to me, Keith Brandt, at: Keith.J.Brandt@gmail.com.
Notes:
Church/Cemetery Records are available on microfilm and can be viewed at the Pottawattamie County Genealogical Society in Council Bluffs, or ordered from an LDS Family History Center. The Film Number is 2209255.

Gravestone Photos and Obituaries. "Click" or "tap" on any of the camera icons () in the "Photo(s)" column for a popup photo of the gravestone or marker. Multiple camera icons indicate multiple photos. "Click" or "tap" an icon in the "Obit" column for obituaries, photos or news items regarding the person.

Acknowledgements: Thanks to David Sweeney and Sandi Wheatley for supplying most of the gravestone and marker photos. Also providing photos were Keith Brandt, Randy Beck, Kyle Beck, Roger Brandt, and Jessica Reis. And also a huge thank you to Joyce (Hansen) George for most of the obituaries. I also greatly appreciate permission from Loess Hills Funeral Home to copy some of the obituaries from their website.

Last updates: July 25, 2017 — added obituary for Earl J. Nansel.
September 19, 2017 — added or updated several photos from recent walk through: Agnes Busse, A. M. Schroeder, Edna & Alfred Plumer, Jason Winfield, Loretta Saar, Maria Plumer, Peter Schoening and Christina Detering.
---