November 1, 2017
More information about the Western Stage Line stopping at Plumer Settlement on the Council Bluffs/Des Moines route, and the last stage run occurring in Mills County in 1869 was added on the "Early History" page. Also, a new page was added to view letters sent by the board regarding the planning for and status of the 1956 Restoration.
September 18, 2017
More photos recently received of the 150th Anniversary Observance, held on Memorial Day, 2017.
July 4, 2017
A collection of photos from the 150th Anniversary Observance, held on Memorial Day, 2017.
April 29, 2017
Following is the Board's official announcement of the 150th Anniversary Observance: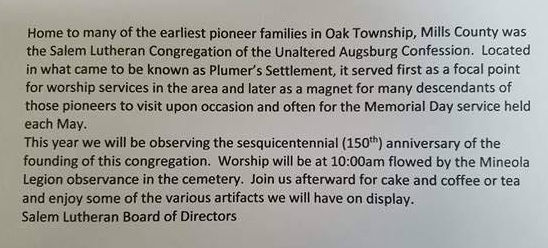 April 24, 2017
In addition to the annual Memorial Day Service, this year we will be having a little extra in commemoration of the 150th Anniversary of the church. This will take place on Monday, May 29th at 10:00 AM. We have rented a large tent with detachable sides (in case of rain) for either the service or the overflow. We've also rented 150 chairs. There will be scrap books and various news articles as well as memorabilia to look at after the service. The American Legion will have their normal grave side service after the church service, weather permitting. Cake, cookies, nuts, mints, and beverages will be available.
May 31, 2010
Taken from the bulletin insert of the May 31, 2010 Memorial Day Service:
"We have noted damage to some of the memorial stones at both the Mineola and Salem Lutheran cemeteries. Stones are out of alignment; some require replacement of foundation stone. While all the stones erected in the cemetery are placed by families and remain the property of those families, we would like to take the best care we can of all parts of the cemetery.
We are currently engaging Croson Cemetery Restoration to realign stones and reset them on their base for a flat fee of approximately $50 per stone, with a minimum of 100 stones.
Please let us know if you would like to have a specific stone repaired. As we anticipate bearing the cost for stones for which we cannot identify remaining family members, we are also seeking donations for the completion of 100 or more stones. For more information or to make a donation, please contact:
Phone: St. John Lutheran Church, Mineola, Iowa (712)526-2268
Mail: St. John Lutheran Church
605 Main St.
Mineola, IA 51554

In your request or donation, please c/o Mark Schoening (on the Salem and St. John boards) or
Don Schoening (on the St. John Council)"
May 31, 2004
At their May 2004 meeting, the Salem Lutheran Association Church and Cemetery Board voted to raise funds for the restoration and preservation of the old church and cemetery record books. The offering collected at the annual Memorial Day Service on May 31st was contributed to that fund. Contact the Board if you would like to help.